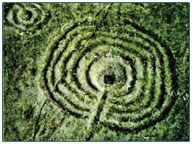 History is all around us and evidence of settlements dating back to the Bronze Age can be found in the hills surrounding the Fenton Centre.

People who lived and worked the land for food almost 3,000 years ago left us with rich fertile soils and a hugely diverse wildlife base.

Through our education centre we can learn how these traditional farming methods have been handed down through the centuries and how todays modern technology is being used to ensure that the same natural riches are inherited for future generations.