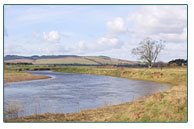 The development, encouragement and practical management of natural habitats for the benefit of our native flora and fauna presents one of the most challenging and inspiring goals of our purpose here at the Fenton Centre.


With these values in mind we have developed a comprehensive programme of measures that create the opportunity for more diverse habitats to thrive.

Reed beds provide a natural form of filtration for drainage water, field margins are havens for small mammals and birds, stubbles are left for the Brown Hare and small piles of decaying timber are home to countless invertebrates.