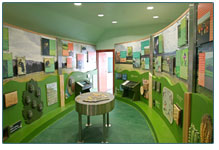 The Fenton Centre is all about learning - For the youngsters there are the fun and games of the adventure playground and the "Touch and Feel" information panels, as we know that everyone remembers things better when they are fun!


The Fenton Centre is in no way a dry and dusty educational establishment. You are welcome (and positively encouraged) to don your wellies and get out there - see the crops in the fields, see the rivers and the animals which live in and around it. It's all about providing a resource to help you understand the environment in which we live and how our role affects it. And you simply can't learn that in a classroom!

The Fenton Centre is also available as a conference and seminar centre. From agricultural students to corporate professionals, we're sure that you will leave the place with more than you came with. For further information on bespoke educational events or workshops, please don't hesitate to contact us.